Our Services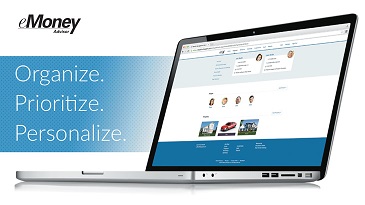 Take an eMoney video tour here!
Tour While developing a customized financial program, we will walk you through a step-by-step process that will help make you feel confident in your decisions.
We use eMoney wealth management financial planning software that is designed to help you reduce the clutter and financial noise that is created from having too many accounts, loans, and financial information in multiple locations. In the past, many financial planners delivered written financial plans that were printed in a leather binder, put on a shelf, and that became out-of-date almost immediately.
Our financial planning platform allows you to see all of your accounts in one secure location, anywhere you have access to an Internet connection. You also have the ability to share your information with other advisors involved in your financial planning decisions (attorneys, CPAs, etc.).  eMoney Wealth Manger also organizes all your financial information in a vault—including your tax returns, will, and power of attorney. You can access it anytime you want from anywhere, e.g., will, tax returns, power of attorney.
One of the significant benefits we see for our clients is it empowers them to make informed decisions, as they have access to simplified reports that provide updated values on a daily basis. When you are facing a major financial-life decision, your financial planner can help you "try on" different solutions on your personal website and provide you with valuable information as to how your decision may impact your ability to maintain the level of security you desire.
Because your website can provide up-to-date reporting, it saves both the client and planner valuable time as you work together to track your progress over time. That means you will not have to constantly obtain and send your planning team up-to-date financial documents in order to update your plan.
Once your goals have been established, we will customize appropriate strategies to suit your vision and objectives. We can help you execute a sound financial program utilizing the following products and service.
Personal and Business Comprehensive financial analysis

Executive benefits and Stock Options including ESOP and ESPP

401(k) analysis and implementation for owners and employees

Management of small business retirement plans including SEP and SIMPLE IRAs

Fee Based Brokerage services and portfolio review

Estate and tax planning strategies

Charitable Giving and Foundation management